Find out more
WELCOME ON BOARD!
Take a break from daily rutine and explore beauty of Pula and its coast with our family boat Europa.
Sail away into the sunset
GET AN UNIQUE FEELING!
Get ready for unforgettable adventure with beautiful sunset scenes and playful dolphins in National Park Brijuni.
Find out more
MAKE MEMORIES WITH US
For our excellent services we have been awarded by The Travel & Hospitality Awards in its 2022 European Travel Awards programme.
5. Vanga (Tito's Island)
6. Dolphins
Top attractions
We offer two different but both magical cruises, one includes sunset and dolphin watching and the other includes panoramic tour of Brijuni National Park with swimming on the beautiful beach of Lost Bay Beach Bar.
1. Arena Pula (Roman Amphitheatre)
2. Roman remains
3. Fort Brijuni Minor – Theater Ulysees
4. Gaž island (Fish shaped Island)
BOOK NOW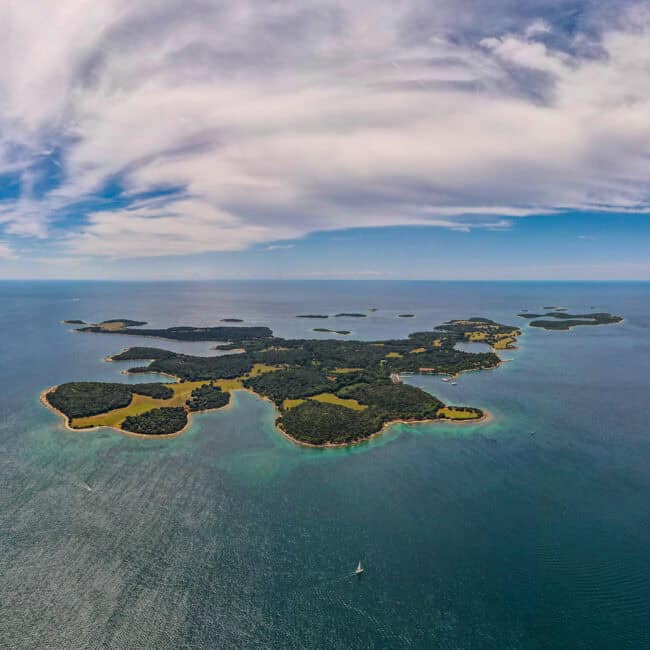 Duration 4 hours | Every day: 12:00-16:00 h | Price from: 40 eur
Duration: 3 hour | Every day: 17:00 – 20:00h | Price from: 40
50
Over 50 years in the game
We are a family with many years of sailing experience located in Pula, Croatia. We have been following family tradition since 1967. Year after year, we try to show our guests Pula and the beauty of its Brijuni islands.
Ship
Ship Europa
New, modern ship perfect for family cruises.
Relax
Relax
Embark on the best cruise in Pula
Dolphins
Dolphins and sunset
Is there anything better and cutter than dolphins playing in their natural habitat. Maybe Istrian sunsets are.
Fun
Fun
We are taking you to unique and hidden spots arround Pula.
Swimming
Swimming
Lost Bay and Beach bar is really a special place full of untouched nature.
Tradition
Tradition
We have more than 50 years of experience in sailing.
Food
Food and drinks
You can choose your meal on board. Meat, fish or vegetarian, we got it all. Unlimited drinks go with it.
21 m long
5,5 m wide
Max 130 ppl
Air Condition
Wi-fi
Sun-protected area
3 Restrooms
Pets allowed